Location Hotel Al Soffiador Murano Island Venice - where we are
Location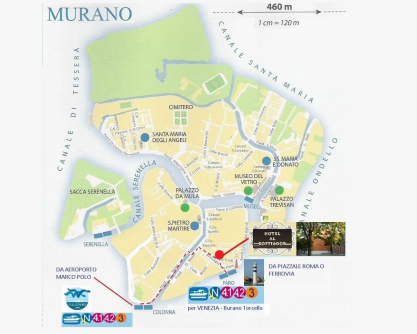 Get our map in PDF format to print or to use it off line
Download Map
Murano, a Magic Place in the Heart of Venice Lagoon
The Hotel al Soffiador Murano is situated on an avenue VIALE BRESSAGIO that has an abundance of shops – selling beautiful glass objects and masques – as well as numerous exhibition rooms and glass kilns where it is possible to watch master craftsmen at work as they blow their glass. This same avenue is also the location of the Abate Zanetti School of Glass and the Glass Experimental Station.
The Island of Murano is steeped in history and rich in museums and churches. Just a stone's throw from the Hotel is the interesting Barovier & Toso Museum and the Church of St Peter the Martyr where it is possible to see the paintings of Giovanni Bellini and Tintoretto. A little further away are the Murano Glass  Museum and the Basilica of the Saints Maria and Donato, famous for its distinctive apse and mosaic flooring.
Connections
Venice and Mainland
The connections between Murano, Venice, and the mainland are active day and night.
From the stop "Fondamente Nove" Venice to Murano the connection with the frequency of every 10 minutes (lines 4.1 and 4.2) from 22.30 about every 30 minutes throughout the night (Notturno Murano line and Notturno Laguna Nord line).
Venice Lagoon islands (Burano-Torcello-Vignole-Sant'Erasmo)
The Hotel is situated in a quiet and central place at the same time, only 60 meters from the water bus stop "Murano Faro" that will allow you to easily reach Venice and other islands of the estuary (Burano-Torcello-Vignole-Sant'Erasmo).
Lido Island
The island of Lido is known for its beaches, the holiday atmosphere and the Venice Film Festival, you reach it from the ferry stop  Colonna, very close, taking the ALILAGUNA line or during the summer from the stop Murano Faro with ACTV lines.
Marco Polo Airport (VCE)
The Marco Polo International Airport (VCE) is reached by the public water service ALILAGUNA- BLUE LINE in about 30 minutes.